For Immediate Release
September 2019
Media Contact: Adrian Williams
Media Phone: (415) 424-2980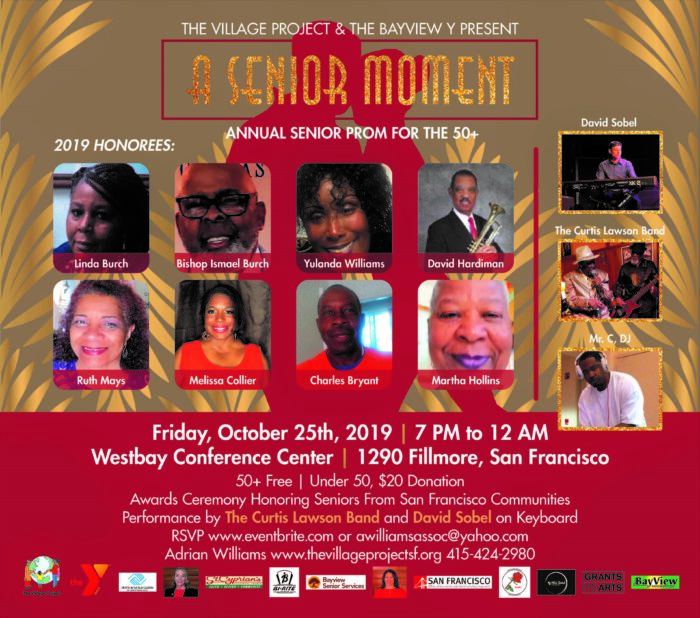 San Francisco:  Join the Village Project on Friday October 25th for the 9th annual "A Senior Moment, A Senior Prom for the 50+".  This awards dinner recognizes outstanding seniors for their contributions and dedication to serving their communities. This year's honorees are Bishop Ismael Burch, Mrs. Linda Mack – Burch, Ms. Yulanda Williams, Mr. David Hardiman, Ms. Ruth Mays, Ms. Melissa Collier, Mr. Charles Bryant and Ms. Martha Hollins. All honorees have worked diligently to enhance the lives of youth, seniors, families and the city of San Francisco.  A special thanks to Mayor London Breed and Supervisor Vallie Brown for their continued support of this annual celebration.  After the awards presentations at 7 pm, guests will satisfy their palates with a delectable dinner, followed by some "down home" blues, performed by The Curtis Lawson Blues Band, featuring David Sobel on keyboard. Of course, DJ, "Mr. C", will be on hand, spinning his oldies- but goodies from the 50's, 60's, 70's and 80's. Join us for "A Senior Prom for the 50 +" and enjoy some good blues, tantalizing food, dancing, no host bar and plenty of community connectedness. 
When:  Friday, October 25 2019 from 7 pm to 11 pm
            7 pm: Awards/Dinner

            8:30 pm: Performance – The Curtis Lawson Blues Band
Dancing to 50's, 60's, 70's & 80's jams – Mr. "C" – DJ
Where: Westbay Conference Center, 1290 Fillmore @ Eddy
Cost: Free for the 50+; Juniors: $20 Donation
Tickets @ www.eventbrite.com or can be purchased at the door
Who: "A Senior Moment" is sponsored by The Village Project in collaboration with the Bayview Y. This year's community partners are Mayor's Office of Economic & Workforce Dev., Grant for the Arts, Bi-Rite Markets, Whole Foods, Western Addition Family Resource Center, St. Cyprian's Episcopal Church, Western Addition Senior Center, Bayview/Hunters Point Multipurpose Senior Services, Nia Soul Catering, The Boys & Girls Clubs of San Francisco, Charlie's Pharmacy, Western Addition Wellness Coalition, San Francisco and The Village Project Advisory Board. This community event is funded in part by a grant from the Dept. of Public Health.
Adrian Williams, the producer, is Executive Director and founder of the Village Project, a service non-profit, focusing on the education and cultural enrichment of youth and their families in the Western Addition. The Village Project produces family/community events, including, most recently, Grilling in the Mo' blues concert/bar-b-q held at Hamilton Rec. Center, Western Addition Youth Trauma Summits and our upcoming 14th annual Kwanzaa Celebration (Dec. 26 – Jan 1), along with Mardi Gras San Francisco Style/ Fat Tuesday in the Fillmore to be held on February 25th, 2020.
NOTE: The Village Project's free after school enrichment program is underway. The program site is located at St. Cyprian's Episcopal Church, 2097 Turk Street. Program hours are from 2 pm to 6 pm, Monday – Friday for youth 5 to 17 years old.
For more information or to donate to the Village Project, visit: www.thevillageprojectsf.org
CONTACT:
Adrian Williams
The Village Project
415-424-2980