Mardi Gras San Francisco – Fat Tuesday in the Fillmore
Fat Tuesday in the Fillmore" returns with free blues concert
SAN FRANCISCO — Celebrating Fat Tuesday in the Fillmore with great blues, a second line processional, creative costumes, good food and colorful beads, the Village Project will host the 13th annual Mardi Gras, San Francisco Style on Tuesday, March 5th. This year's celebration again opens with a free community blues concert in the Fillmore Center Plaza, featuring blues songstress, Margie Turner, along with Alabama Mike and Bernard Anderson. The New Orleans style festival will bring San Francisco's historic Fillmore Music District to life with Zydeco & blues, a colorful family friendly carnival atmosphere, and a second line parade led by Sumba Funk, the St. Gabriel's Brass Band and the Gumbo Band. New Orleans' own, Chief Takawaka will serve as Grand Marshall and will MC the event. There will be face painting, street artists and performers. The free blues concert starts at 5 pm and ends at 7:30 pm, followed by the second line New Orleans style parade down the Fillmore Corridor, culminating with the annual Masquerade Ball at the Fillmore Jazz Heritage Center. At the Masquerade Ball, guests will enjoy New Orleans cuisine, Mardi Gras drink specials and more blues and Zydeco music, with Tia Carrol and the infamous Fillmore Slim.
"We are excited to include the weekly Tuesday night blues jam session, which takes place every Tuesday night at the Fillmore Heritage Center to this year's itinerary, featuring musicians from all over the Bay area. We are expecting visitors from the Fillmore District and beyond," said Adrian Williams, Executive Director of The Village Project and producer of the event. "Not only does our annual Mardi Gras celebration include what people look for in the traditional New Orleans celebrations, it continues to embrace the history of this neighborhood — where music has been intertwined into the fabric of everyday life for more than 100 years. With the help of San Francisco Travel and Soul Travel of America, we expect to attract a number of tourists to The Fillmore, one of the most historical neighborhoods in San Francisco, for an evening filled with fun and community connectedness".
Advance purchase tickets for the Masquerade Ball are available at www.eventbrite.com. Ticket price include admission to the ball, dinner, beads, and a beverage. VIP packages are available. Tickets can be purchased @ www.eventbrite.com.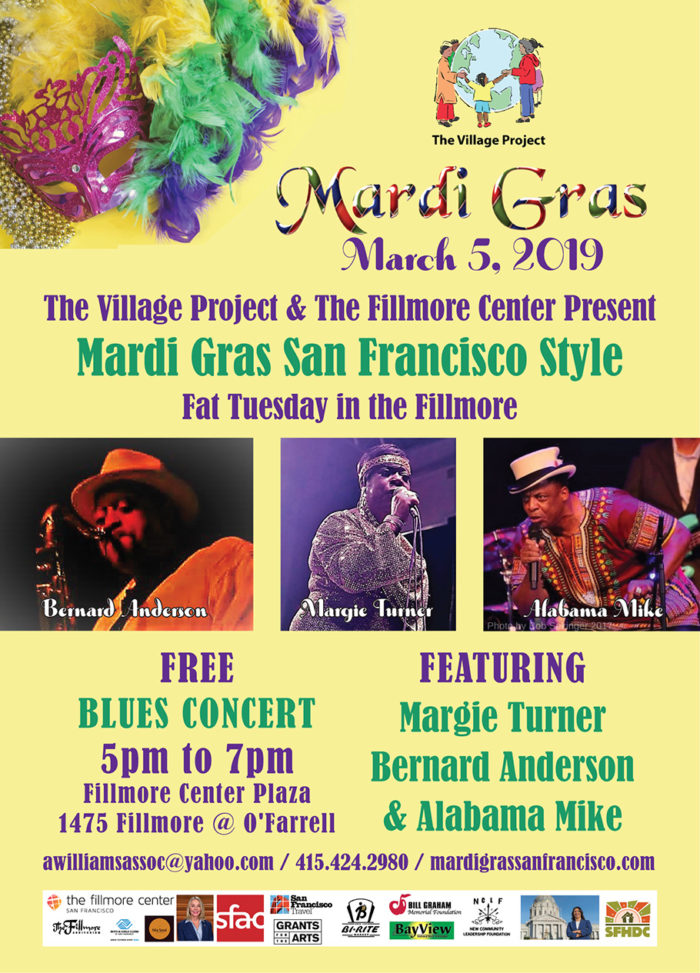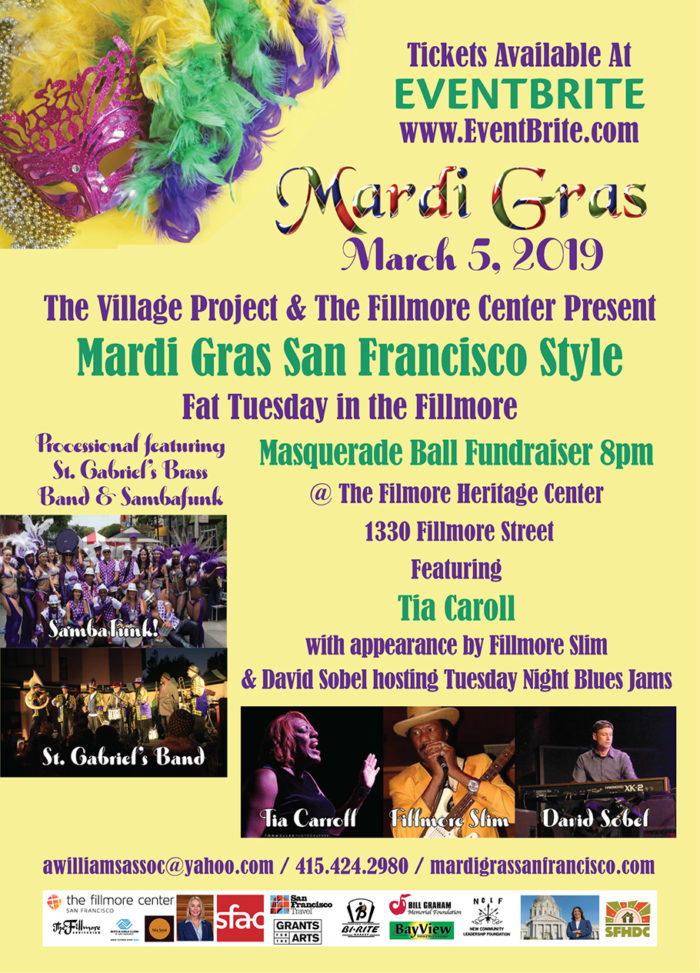 About the Village Project
Adrian Williams is the founder of The Village Project, a youth service organization focusing on academic and cultural enrichment for youth and their families in the Western Addition. This annual fundraiser helps support an afterschool program and a free 8 week summer camp for underserved youth. The Village Project also produces Grilling in the 'MO, A Senior Moment, A Senior Prom for the 50+ and a seven day Kwanzaa Celebration, which last year was held in 17 different venues throughout San Francisco.


Business Name: The Village Project
Contact: Adrian Williams
Address: 2097 Turk Street, San Francisco, CA 94115
Phone: (415) 424-2980
Websites URL: http://www.thevillageprojectsf.org http://www.mardigrassanfrancisco.com, http://www.youtube.com/watch?v=5vt-h4UjD0o http://www.youtube.com/watch?v=r2pFo7Jdc_g, http://www.youtube.com/watch?v=GXAUj3MG0UA

San Francisco Department of Public Health – Mental Health Services Act Program