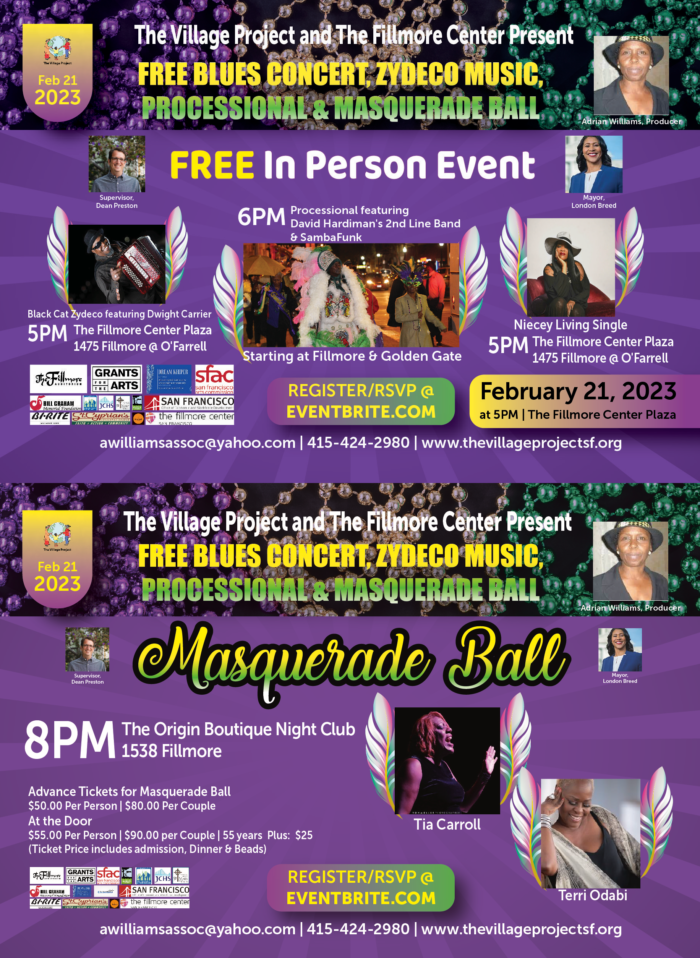 Mardi Gras San Francisco – Fat Tuesday in the Fillmore
TUESDAY FEBRUARY 21, 2023
Fat Tuesday in the Fillmore" returns with free blues concert & Masquerade Ball
SAN FRANCISCO — Celebrating Fat Tuesday in the Fillmore with great blues, Zydeco Music, a second line processional, creative costumes, good food and colorful beads, the Village Project will host this year's annual Mardi Gras, San Francisco Style on Tuesday, February 21st. Rain or Shine, the celebration again opens with a free community blues concert at the Fillmore Plaza, featuring blues songstress, Niecey Living Single , along with Black Cat Zydeco, featuring Dwight Carrier. The New Orleans style festival will bring San Francisco's historic Fillmore Music District to life with Zydeco & blues, a colorful family friendly carnival atmosphere, and a second line parade led by Sumba Funk, the David Hardiman 2nd Line Band. There will be face painting, street artists and performers. The free blues concert starts at 5 pm and ends at 8:00 pm, followed by the second line New Orleans style parade down the Fillmore Corridor, culminating with the annual Masquerade Ball at the Origin Boutique Nightclub. At the Masquerade Ball, guests will enjoy New Orleans cuisine, Mardi Gras drink specials and more blues and Zydeco music, with Tia Carrol and Terri Odabi. (In case of rain, all activities will move inside to Origin Boutique Nightclub, 1538 Fillmore).
Advance purchase tickets for the Masquerade Ball are available at www.eventbrite.com. Ticket price include admission to the ball, dinner and beads. VIP packages are available.
About the Village Project Adrian Williams is the founder of The Village Project, a youth service organization focusing on academic and cultural enrichment for youth and their families in the Western Addition. This annual fundraiser helps support an afterschool program and a free 8 week summer camp for underserved youth. The Village Project also produces Grilling in the 'MO, A Senior Moment, A Senior Prom for the 50+ and a seven day Kwanzaa Celebration, which last year was held in 17 different venues throughout San Francisco.
Business Name: The Village Project Contact: Adrian Williams Address: 2097 Turk Street, San Francisco, CA 94115 Phone: (415) 424-2980 Websites URL: http://www.thevillageprojectsf.orghttp://www.mardigrassanfrancisco.com, http://www.youtube.com/watch?v=5vt-h4UjD0ohttp://www.youtube.com/watch?v=r2pFo7Jdc_g, http://www.youtube.com/watch?v=GXAUj3MG0UA