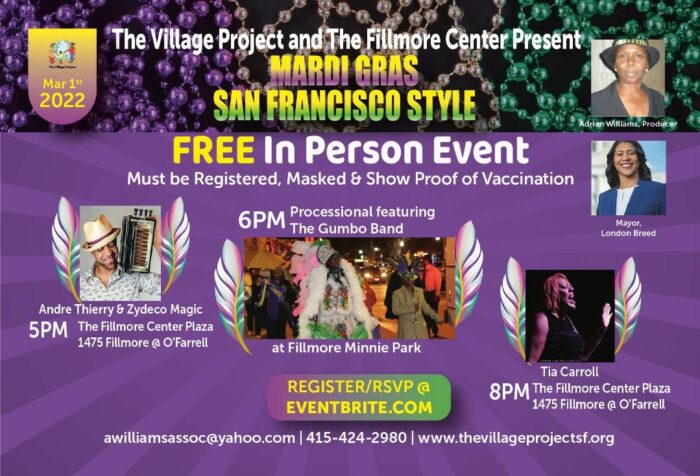 This year's Mardi Gras San Francisco Style, will once again be "LIVE" along the Fillmore Corridor. The Village Project and our community partners will celebrate Fat Tuesday in the Fillmore on March 1st, starting at 5 pm at The Fillmore Center Plaza,1475 Fillmore @ O'Farrell. Celebrating with a free blues concert, a second line processional, creative costumes, and colorful beads, the Village Project will host the 16th annual Mardi Gras, San Francisco Style, Fat Tuesday in the Fillmore. This year's celebration again opens with a free live community blues concert, featuring blues Diva, Tia Carroll and Granny nominated, Andre Thierry & Zydeco Magic. The New Orleans style festival will bring San Francisco's historic Fillmore Music District to life with Zydeco & blues, a colorful family friendly carnival atmosphere, and a second line parade led by the Gumbo Band (starting @ The Fillmore Minnie Park,- Golden Gate Ave.). Bay area award winning playwright and dancer, Robert Henry Johnson & Baby Aria will serve as Grand Marshalls!
"We are thrilled to be once again hosting this annual celebration live, a sign of normalcy at last!" states the producer of this New Orleans style party! "Not only does our annual Mardi Gras celebration include what people look for in the traditional New Orleans celebrations, it continues to embrace the history of San Francisco's Fillmore neighborhood – where music has been intertwined into the fabric of everyday life for more than 100 years".
Need more information?
Please contact Adrian at awilliamsassoc@yahoo.com. To register, go to www.eventbrite.com. Must be vaccinated and masked to attend! Capacity is limited, register today!
About the Village Project Jefferson Award winner, Adrian Williams is the founder of The Village Project, a youth service organization focusing on academic and cultural enrichment for youth and their families in the Western Addition. This annual fundraiser helps support an afterschool program and a free 8 week summer camp for underserved youth. The Village Project also produces Grilling in the 'MO, A Senior Moment, A Senior Prom for the
Business Name: The Village Project
Contact: Adrian Williams
Address: 2097 Turk Street, San Francisco, CA 94115
Phone: (415) 424-2980
Websites URL: http://www.thevillageprojectsf.org, http://www.mardigrassanfrancisco.com