The Village Project & Community Partners Present: 13th Annual City-Wide Kwanzaa Celebration December 26, 2018, thru January 1, 2019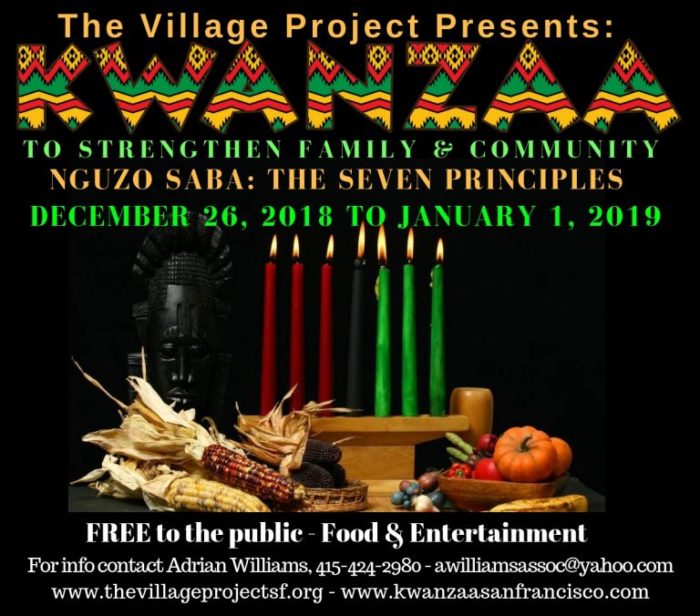 SAN FRANCISCO – The Village Project and Community Partners will present their 13th annual Kwanzaa celebrations throughout San Francisco, with seven days of community events, starting on Dec. 26th through January 1st. Striving to unite and strengthen our family, community and nation, we will celebrate each of the seven principles of Kwanzaa (the Nguzo Saba). There will be 17 free events in 9 different neighborhoods. We are excited to add the Dr. George Davis Senior Center and the Visitation Valley branch of the San Francisco Public Library to this year's schedule. Each hosting organization will present exciting and enriching cultural programs, intended to both entertain and engage the entire family. A spiritual ceremony – pouring of libations and honoring of ancestors- will start each application and will be followed by a feast, live entertainment and the lighting of one of the seven candles of the Kinara. This year's celebration will start at City Hall on Dec. 26th at noon, with Umoja (Unity) and end at St. Cyprian's Episcopal Church on Jan. 1st at 6 pm with the lighting of the final candle, Imani (faith).
This year's entertainment line-up begins Umoja (unity) Briana J & Daktari, The C-Notes, Project Level and the Village Project kids performing at City Hall, with Dr. Maestro Curtis as keynote speaker. The Daktari Medicine Collective Dancers at the Museum of the African Diaspora and Fillmore Slim at the African American Arts & Culture Complex will culminate the first day's celebration and the lighting of the first candle of the Nguzo Saba. The other headliners are a myriad of rhythm & blues and jazz performers, featuring Tia Carroll, The Silver Fox, Raja, and The John Coltrane Bands. Phavia Kujichagulia, author, griot, & spoken word musician will tantalize at the San Francisco Public Library. There will also be other spoken word artists and drumming, all followed by a feast of savory delights. The Silver Fox and his blues band will close this year's celebration at St. Cyprian's Episcopal Church and the lighting of the final candle of the Kinara, Imani (faith).
ALL EVENTS ARE FREE & OPEN TO THE COMMUNITY
Kwanzaa, 2018 Schedule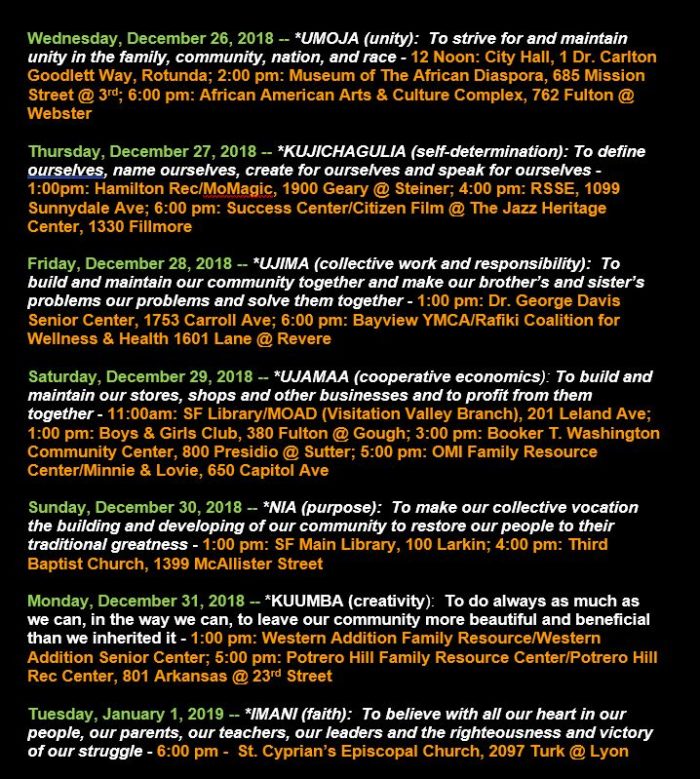 *UMOJA (unity): To strive for and maintain unity in the family, community, nation, and race Wednesday, Dec. 26th: 12 Noon – City Hall, 1 Dr. Carlton Goodlett Way, Rotunda – dance performance by Briana J & Daktari, with keynote address by Dr. Maestro Curtis; 2:00 pm, Museum Of The African Diaspora, 685 Mission Street @ 3rd – performance by Daktari & The Medicine Dance Collective; 6:00 pm, African American Arts & Culture Complex, 762 Fulton @ Webster – performance by Fillmore Slim
*KUJICHAGULIA (self-determination): To define ourselves, name ourselves, create for ourselves and speak for ourselves
Thursday, Dec. 27th: 1 pm Hamilton Rec/MoMagic, 1900 Geary @ Steiner, a performance by Project Level Dancers; 4:00 pm, RSSE, 1099 Sunnydale Ave, DJ Mr. C; 6:00 pm, Success Center/Citizen Film @ The Jazz Heritage Center, 1330 Fillmore, performance by blues songstress Tia Carroll
*UJIMA (collective work and responsibility): To build and maintain our community together and make our brother's and sister's problems our problems and solve them together
Friday, Dec. 28th: 1:00 pm – Dr. George Davis Senior Center, 1753 Carroll Ave, a performance by the John Coltrane Church Band; 6:00 pm Bayview YMCA/Rafiki Coalition for Wellness & Health 1601 Lane @ Revere, a jazz performance by Raja
*UJAMAA (cooperative economics): To build and maintain our stores, shops and other businesses and to profit from them together
Saturday, Dec 29th: 11:00 am, SF Library/MOAD (Visitation Valley Branch), 201 Leland Ave; 1:00 pm – Boys & Girls Club, 380 Fulton @ Gough; 3:00 pm – Booker T. Washington Community Center, 800 Presidio @ Sutter; 5:00 pm – OMI Family Resource Center/Minnie & Lovie, 650 Capitol Ave, performance by The West Coast Blues Society Blues Band
*NIA (purpose): To make our collective vocation the building and developing of our community to restore our people to their traditional greatness
Sunday, Dec. 30th: 1:00 pm – SF Main Library, 100 Larkins, a performance by Phavia Kujichagulia;
4:00 pm Third Baptist Church, a keynote address by Rev. Amos Brown
*KUUMBA (creativity): To do always as much as we can, in the way we can, to leave our community more beautiful and beneficial than we inherited it
Monday, Dec. 31st: 1:00 PM: Western Addition Family Resource/Western Addition Senior Center; performance by the Blues Ryders Band; 5:00 pm Potrero Hill Family Resource Center/Potrero Hill Rec Center, 801 Arkansas @23rd – DJ, MC
*IMANI (faith): To believe with all our heart in our people, our parents, our teachers, our leaders and the righteousness and victory of our struggle
Tuesday, Jan. 1st: 6 pm – St. Cyprian's Episcopal Church, 2097 Turk @ Lyons, a performance by The Silver Fox Blues Band
About Kwanzaa
Created by Dr. Maulana Karenga in 1966, Kwanzaa is celebrated annually by more than 30 million people worldwide, over seven days from December 26 to January 1. The values of Kwanzaa, Nguzo Saba (The Seven Principles), are critical tools for addressing the issues facing the African-American community. Ceremonies will be led by Brotha' Clint Sockwell and Malik Seneferu. There will be a candle lighting & pouring of libation ceremony, live entertainment & a feast at each event. For more information visit:
www.kwanzaasanfrancisco.com; www.thevillageprojectsf.org
About the Village Project
Adrian Williams is the founder of The Village Project, a youth service organization focusing on education and cultural enrichment for youth and their families in the Western Addition. She has revived the celebration of Kwanzaa throughout San Francisco, by connecting traditionally African American communities for this celebration.
Village Project's Community Partners:
Bayview YMCA, Museum of The African Diaspora (MOAD), Mayor's Office of Neighborhood Services (MONS), Boys & Girls Club of SF, PGE, California Arts Council, San Francisco Arts Commission, Grants for the Arts, The Success Center, SF, Citizens Films, Western Addition Family Resource Center, Western Addition Senior Center, African American Arts & Culture Center, OMI Family Resource Center, African American Holistic Wellness Program, San Francisco Travel, The Bayview Newspaper, The New Fillmore Newspaper, The Fillmore Auditorium, Minnie & Lovie Rec Center, San Francisco Public Library, San Francisco Rec & Park, The Jazz Heritage Center, San Francisco Housing Development Corp, Hamilton Rec Center, St. Cyprian's Episcopal Church, The Fillmore Center Plaza, Third Baptist Church, MoMagic, KPIX TV- Channel 5, Charlie's Pharmacy, Bi-Rite Markets, Potrero Hill Family Resource Center, Nia Soul Catering, Bill Graham Foundation, St. Mary's of the Virgin, KPOO Radio, Dr. George E. Davis Senior Center, Bruno's Pizza, KBLX, KISS FM, KMEL, Bayview/Hunters Point Multipurpose Senior Services, DCYF, RSSE, Booker T Washington Community Center, Western Addition Wellness Coalition, Rafiki Wellness Coalition, Dr. Dorothy Tsuruta and The Africana Studies Dept. @ S.F. State University; Kwanzaa is partially funded by the DCYF, Bayview Y, Grants for the Arts, San Francisco Foundation, California Arts Council, and the Dept. of Public Health. Special thanks to Nia Soul, Vincent McCall, Lorraine Bowser, Delaine Irvin, Roberta McLaughlin, Rev. Eric Metoyer, Bishop Alfonso King, Jeff Jones, & James Powell.
Donations:
Help us to continue this important community celebration. Please send donations to:
The Village Project
2097 Turk Street
San Francisco, CA  94115
415-424-2980