16th Annual City- Wide Kwanzaa Celebration Goes Virtual!
December 26, 2021 thru January 1, 2022
---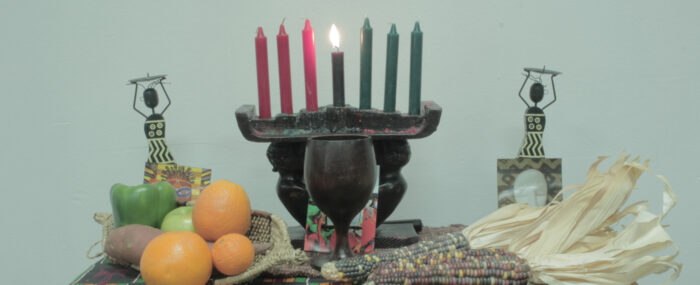 SAN FRANCISCO: Due to the COVID pandemic, this year's Kwanzaa Celebration will stream virtually from Dec. 26th to Jan. 1st at 7 PM. We will have one in person celebration at City Hall on Dec. 27th at 12 Noon (Kujichagulia). The Village Project and our community partners will celebrate our 16th annual Kwanzaa celebration with seven days of community events presented through social media, i.e., Facebook Live and YouTube. More than ever, we are striving to unite and heal our families, communities and nation. Never before has there been such a need to reflect on the Nguzo Saba, in order to bring our community together and survive this pandemic, which is plaguing the world – devastating families and communities. We will again celebrate daily, each of the seven principles of Kwanzaa (the Nguzo Saba) and pour libations for all of the lost loved ones, along with honoring our ancestors. Each of our hosting partners will present exciting and enriching cultural programs virtually, intended to both to entertain and engage the entire family. Our spiritual ceremony – pouring of libations and honoring of ancestors- will start each program and will be followed by cultural performances and the lighting of one of the seven candles of the Kinara. Each program will end with a concert performance, featuring some of the Bay area's rhythm & blues greats! We will supply curbside meal pickups to accommodate the tradition of our daily feast (the karamu). Each program will be video-taped at several of our traditional venues and will stream on Facebook Live and YouTube from December 26th to January 1st at 7 pm daily.
This year's entertainment line-up will include blues bands, dance performances, spoken word, and keynote speakers. Our concert headliners will include a myriad of rhythm & blues and jazz performers, featuring Tia Carroll, Fillmore Slim, Harpist From the Hood, Soul Mechanix, Pat Wilder, Andre Thierry & Zydeco Magic, Yolandra Rhodes and Alabama Mike, just to name a few.
ALL EVENTS ARE FREE AND OPEN TO THE PUBLIC
RSVP & REGISTER for meals and social media links @www.eventbrite.com
THE NGUZO SABA SCHEDULE
UMOJA (unity): To strive for and maintain unity in the family, community, nation and race: Sunday, December 26th; Performances by Harpist From the Hood & Fillmore Slim; Co-sponsors – SF Public Library, Bethel AME Church, Third Baptist Church & MEGABLACK, SF
KUJICHAGULIA (self-determination): To define ourselves, name ourselves, create for ourselves and speak for ourselves: Monday, December 27th; Performances by Andre Thierry & Zydeco Magic and Briana Dance Company; Co-sponsors – Mayor London Breed's Office, Human Rights Commission, OEWD & Booker T. Washington Community Center; In Person Celebration at City Hall at 12 Noon in Rotunda; Virtual streaming at 7 PM on Face Book Live & YouTube
UJIMA (collective work and responsibility): To build and maintain our community together and make our brother's and sister's problems our problems and solve them together: Tuesday, December 28th: Performance by Soul Mechanix; Co-sponsors – YMCA Urban Services Family Resource Centers, Minnie & Lovie Rec Center, & Hamilton Rec Center
UJAMAA (cooperative economics): To build and maintain our own stores, shops and other businesses and to profit from them together: Wednesday, December 29th: Performance by Alabama Mike; Co-sponsors Rafiki Coalition for Health & Wellness, B-Magic & The Bayview YMCA
NIA (purpose): To make our collective vocation the building and developing of our community in order to restore our people to their traditional greatness: Thursday, December 30th: Performance by Pat Wilder; Co-sponsors: The Success Centers – SF, The Fillmore Merchants & Neighborhood Collaborative & New Leadership Community Foundation
KUUMBA (creativity): To do always as much as we can, in the way we can, in order to leave our community more beautiful and beneficial than we inherited it: Friday, December 31st: Performance by Yolandra Rhodes; Co-sponsors African American Arts & Culture Complex, MoMagic & Western Addition/George E. Davis Senior Centers
IMANI (faith): To believe with all our heart in our people, our parents, our teachers, our leaders and the righteousness and victory of our struggle: Saturday, January 1st: Performance by Tia Carroll; Co-sponsors: SF State University, Africana Studies; St. Cyprian's Episcopal Church, Museum of the African Diaspora (MOAD)& Fellowship Manor Senior Housing
About Kwanzaa
Created by Dr. Maulana Karenga in 1966, Kwanzaa is celebrated annually by more than 30 million people worldwide, over seven days from December 26 to January 1. The values of Kwanzaa, Nguzo Saba (The Seven Principles), are critical tools for addressing the issues facing the African American community. Ceremonies will be led by Brotha' Clint Sockwell, Kwanza Morton, Malik Seneferu and Toni Battle. There will be a lighting of one of the candles of the kinara & a pouring of libation ceremony, live entertainment & a feast at each event. For our updated program information visit:
www.kwanzaasanfrancisco.com; www.thevillageprojectsf.org
http://www.youtube.com/user/fillmovillageproject
About the Village Project
Adrian Williams is the founder of The Village Project, a youth service organization focusing on education and cultural enrichment for youth and their families in the Western Addition. She has revived the celebration of Kwanzaa throughout San Francisco, by connecting traditionally African American communities.
Community Partners
Family Tree Productions, Mayor's Office of Economics & Workforce Development (OEWD), Bayview YMCA, San Francisco Arts Commission, Grants for the Arts, Success Centers, Western Addition Family Resource Center, Western Addition Senior Center, African American Arts & Culture Center, OMI Family Resource Center, The Bayview Newspaper, Minnie & Lovie Rec Center, San Francisco Public Library, San Francisco Rec & Park, Bethel AME Church, Fellowship Manor, St. Cyprian's Episcopal Church, St. Phillip Baptist Church, Third Baptist Church, MoMagic, KPIX TV- Channel 5, Charlie's Pharmacy, Bi-Rite Markets, Nia Soul Catering, Bill Graham Foundation, St. Mary's of the Virgin, KPOO Radio, Dr. George E. Davis Senior Center, KBLX, KISS FM, KMEL, Bayview/Hunters Point Multipurpose Senior Services, DCYF, Western Addition Wellness Coalition, Rafiki Wellness Coalition, Dr. Dorothy Tsuruta and The Africana Studies Dept. @ S.F. State University; Kwanzaa is partially funded by the DCYF, Bayview Y, Grants for the Arts, Episcopal Impact Fund, San Francisco Arts Commission, OEWD and the Dept. of Public Health. Special thanks to Nia Soul, Malik Seneferu, Clint Sockwell, Toni Battle, Kwanzaa Morton and Mayor London Breed
We will have an in person Kwanzaa event at City Hall on Dec. 27th at 12 Noon in the Rotunda. We will celebrate the second principle of the Nguzo Saba, Kujichagulia – self determination. We will pour libations and honor our ancestors as we light the second candle of the Kinara. There will be afro-centric dancing by Briana along with spoken word , a performance by Alpha Phi Alpha Fraternity and a keynote address by Sheryl Davis-Director of the human Rights Commission. Later, there will be a virtual program streamed at 7 pm on Face Book Live & YouTube, featuring Grammy nominated Andre Thierry & Zydeco Magic. You must show proof of vaccination and there is limited seating.

Family Tree Productions, Mayor's Office of Economics & Workforce Development (OEWD), Bayview YMCA, San Francisco Arts Commission, Grants for the Arts, Success Centers, Western Addition Family Resource Center, Western Addition Senior Center, African American Arts & Culture Center, OMI Family Resource Center, The Bayview Newspaper, Minnie & Lovie Rec Center, San Francisco Public Library, San Francisco Rec & Park, Bethel AME Church, Fellowship Manor, St. Cyprian's Episcopal Church, St. Phillip Baptist Church, Third Baptist Church, MoMagic, KPIX TV- Channel 5, Charlie's Pharmacy, Bi-Rite Markets, Nia Soul Catering, Bill Graham Foundation, St. Mary's of the Virgin, KPOO Radio, Dr. George E. Davis Senior Center, KBLX, KISS FM, KMEL, Bayview/Hunters Point Multipurpose Senior Services, DCYF, Western Addition Wellness Coalition, Rafiki Wellness Coalition, Dr. Dorothy Tsuruta and The Africana Studies Dept. @ S.F. State University; Kwanzaa is partially funded by the DCYF, Bayview Y, Grants for the Arts, Episcopal Impact Fund, San Francisco Arts Commission, OEWD and the Dept. of Public Health. Special thanks to Nia Soul, Family Tree Production, Malik Seneferu, Clint Sockwell, Toni Battle, Kwanzaa Morton and Mayor London Breed
Donations:
Help us to continue this important community celebration. Please send donations to:
The Village Project
2097 Turk Street
San Francisco, CA 94115
415-424-2980
www.thevillageprojectsf.org